After almost four decades working in higher education, from faculty member to President, it was time for a change. Life Reinspired came along at exactly the perfect moment. The immersive workshop gave me an opportunity to truly reflect on my life purpose. I discovered the things I want to do in this new period of my life that would bring me passion and joy while at the same time being good for the world. Moving away from being defined by the role of college president to reinventing myself was challenging. Life Reinspired helped me focus. In the supportive environment provided at the workshop, Caroline and Sabrina skillfully moved us through individual and group exercises that took us further along the path of discovery. I was able to distil all of the ideas and desires into the essence of what I wanted to create for myself going forward. I was able to hurl myself into the future and imagine what my life could be like. Now, four months after the workshop I am fully living into the vision I created. Had it not been for Life Reinspired I don't believe I would have shed my career and moved into new exciting things so easily.
I recommend Life Reinspired for baby boomers like me who are moving from fulfilling and successful careers to the next great thing but also for anyone at any age who finds themselves in transition. The program is transformative, meaningful and (re)inspiring.
Mary Spilde, Phd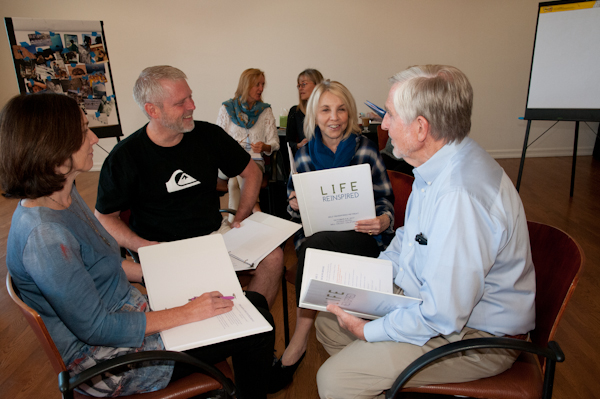 Life Reinspired was a transformative experience for me. There was something unique and powerful about the programming of the sessions that created an environment conducive to intense personal growth. The combination of individual exploration and group interaction led to me learning more about myself in 3 days than I have in the last 10 years. I came out of the weekend with a clear idea of what I want to do in the future and the steps I need to take to get there.
Eirik Olsen
The workshop was very fun and very productive—and I'm keen to take action based on what I learned. I think many, many couples would benefit from this program.
Ken Kelley
Caroline and Sabrina's wonderful interactions with each other and with us made me feel understood, supported, and tremendously empowered to jump off the diving board into my new life.
Jessica Nutik Zitter
The opportunity to be in a group of like-minded individuals–all seeking a clearer road ahead–was a gift. Your leadership was amazing and inspirational!
Carole Hochman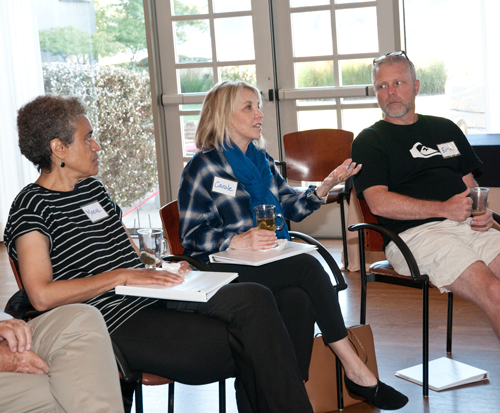 I was very excited to do this workshop at this juncture of my life. I came expecting to synch up with my wife and definitely accomplished that. But I also pushed my personal development more than I expected.
Jim Heeger
I loved the way you supported us as a couple and included our relationship as a stakeholder in the process of broadening our efforts around personal, career, and community purpose.
Kate Campbell King, CFP
This was a very helpful program and I think it will have a significant impact on our next stage of life. Working as a couple was game-changing.
Ann Mathieson
We all need to dream more and align with our desires for the future. We started the important conversations at the workshop and will continue them going forward.
Jennifer Krasnoff, MD
This is a must workshop for anyone who wants to take a step back and critically evaluate the next phase of your life and career.
Eitan Homa, MD
Caroline MacNeill Hall
Thank you so much for your leadership and all the wisdom and experience you shared with the group. I was deeply inspired by the amazing focus, attention, and patience you bring to your role as leader and coach and I was moved by the confidence you so clearly have in each person's discovery process.
…Your questions and attention seemed, each time, to ignite a process of distillation and hope… What an impact that brevity and depth of focus has! As a documentary filmmaker, I understand the power of curiosity and listening and of asking questions, but [you have] really awakened me to the value of honoring the questions themselves as a process and a guide.
— Hillary Birmingham, Documentary Filmmaker
---
I especially appreciate how lovingly and firmly you hold me, and I want you to know that I feel it. It makes a difference in my life! I also appreciate the immense amount of energy, attention, and creativity you bring to the entire community and to the work you do. You make a difference in the world.
— Paul Plamondon, Experiential Education Designer
---
Every day I have grown, every day I act on my urges more, every day I take permission, every day I see my impact and take full responsibility, every day my life seems like a dream come true, every day my possibilities grow, every day I dare to be bigger, every day my ego gets smaller, and every day I am making a difference. And every day, when I bow my head or raise it to the sky to be grateful and to count all my blessings, I say thank YOU Caroline, thank you for you.
— Nassim Ghrayeb, Senior Executive & Photographer, Dubai
---
You should know, I think of you often, usually while I am driving, always with the intention to write you a long email with all of the ways I notice that your leadership has impacted my life. Know when you get a "ping," that is me, sending out intention, saying "Caroline, the work you do is amazing, and a gift, and I continue to learn from you every day."
— Kerry Hamilton, Senior Executive
---
Caroline, you are powerful, passionate, strong, wise, intuitive, no bullshit, and willing to say the hard stuff when it is the most obvious, yet nobody wants to say it. I believe that you see the very core of the onion and go right there, others have to peel layers to get to the core. Both work and your way is bold and so in service of getting at moving people NOW. Then… your beauty… astonishing! I can't begin to put words to describe the person you are.
— Deanna Peterson, PhD
---
Your strong, beautiful, flowing, passionate, creative energy led me and challenged me in ways that I'm still discovering. I'm striving deeply to step into my strength because I've been leading from my weakness for too long. You are an amazing example to me of how beautiful strength and passion can be. I love your energy and your leadership qualities and I feel blessed to have attracted such a marvelous person into my life.
— Susan Taylor, Designer
---
Caroline you are a very strong, courageous, compassionate, vibrant, and most definitely beautiful person. I think your beauty not only shines on the outside, but within, as well.  I think you have so much life in you to bring to this world and people could only be lucky enough to be part of it and have you in their lives in some way. If i would ever want a new best friend or even a mother, I would want you to be that person for me. You have my utter respect and gratitude. If in my lifetime I could only bring or do half of what you have done for me, I think this world would be THAT much better.
— Allen Davidov, Entrepreneur
Sabrina M. Roblin
Sabrina creates a sacred space for whatever may arise in our sessions. Her wisdom, compassion, and dynamic coaching abilities have helped to align me with my highest path, and have given me the clarity to move forward with confidence. Her talent for connecting singular experiences with larger life themes has brought a sense of cohesion to my life. Her coaching honors our connection with Spirit as well as practical application of the learning. After working with her for a few months, I have accomplished much more than I expected to. But more importantly I feel much more capable of handling situations when they arise. Every session reconnects me with my personal power and gives me the confidence to create from that place. I'm so blessed and grateful to have Sabrina as my coach.
— Bryn Schuermann, Farmer's Markets Manager & Individual Coach
---
Sabrina Roblin brings a powerful mix of heart, spirit and business experience to her work as a coach. Love filled, gentle, yet with an amazing ability to have challenging conversations, Sabrina is the one you want on your side!
— Cynthia Loy Darst, MCC, Founder TeamDarst, Founding Leader CTI
---
Sabrina Roblin understands fully what it means to be an outstanding listener. She not only hears what her clients are saying, she tailors her feedback to the precise needs of the ongoing dialogue she inspires with anyone lucky enough to work with her. There is nothing canned or prefabricated about the road maps that Sabrina develops with her clients in partnership. Everything she says and does is unique, personal, rooted in fact-based discovery, and carefully shaped to identify the hidden opportunities ahead that few individuals can see for themselves. I have seen her in action for three decades and her sensitivity to helping people better chart their futures is only surpassed by her intuition, patience, and willingness to evolve a plan through collaborative iteration. She is one of a kind, and believe me, you want her in your corner.
— Ken Goldstein, Author;
Chairman, ThriftBooks Global &
Chairman, Good Men Media
---
If you are looking for a mentor or coach who is knowledgeable, insightful and compassionate, Sabrina is a perfect choice. She has the experience and training to catalyze personal transformation in others from a place of service over ego.  I highly recommend her for the person she is and for her skills.
— Patrick O'Neill, President, Extraordinary Conversations
---