Sabrina Roblin brings a powerful mix of heart, spirit and business experience to her work as a coach. Love filled, gentle, yet with an amazing ability to have challenging conversations, Sabrina is the one you want on your side!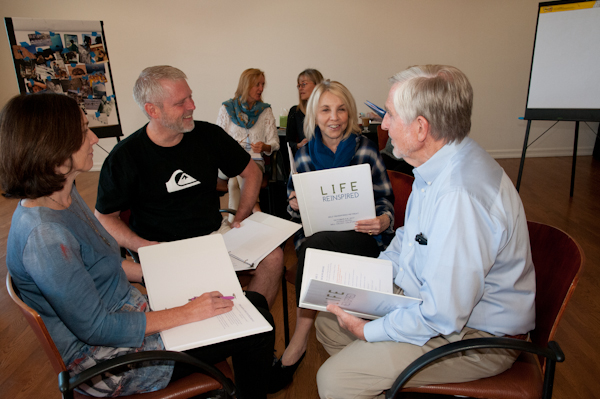 Life Reinspired was a transformative experience for me. There was something unique and powerful about the programming of the sessions that created an environment conducive to intense personal growth. The combination of individual exploration and group interaction led to me learning more about myself in 3 days than I have in the last 10 years. I came out of the weekend with a clear idea of what I want to do in the future and the steps I need to take to get there.
The workshop was very fun and very productive—and I'm keen to take action based on what I learned. I think many, many couples would benefit from this program.
I loved the way you supported us as a couple and included our relationship as a stakeholder in the process of broadening our efforts around personal, career, and community purpose.
This was a very helpful program and I think it will have a significant impact on our next stage of life. Working as a couple was game-changing.
Caroline and Sabrina's wonderful interactions with each other and with us made me feel understood, supported, and tremendously empowered to jump off the diving board into my new life.
After almost four decades working in higher education, from faculty member to President, it was time for a change. Life Reinspired came along at exactly the perfect moment. The immersive workshop gave me an opportunity to truly reflect on my life purpose. I discovered the things I want to do in this new period of my life that would bring me passion and joy while at the same time being good for the world. Moving away from being defined by the role of college president to reinventing myself was challenging. Life Reinspired helped me focus. In the supportive environment provided at the workshop, Caroline and Sabrina skillfully moved us through individual and group exercises that took us further along the path of discovery. I was able to distil all of the ideas and desires into the essence of what I wanted to create for myself going forward. I was able to hurl myself into the future and imagine what my life could be like. Now, four months after the workshop I am fully living into the vision I created. Had it not been for Life Reinspired I don't believe I would have shed my career and moved into new exciting things so easily.
I recommend Life Reinspired for baby boomers like me who are moving from fulfilling and successful careers to the next great thing but also for anyone at any age who finds themselves in transition. The program is transformative, meaningful and (re)inspiring.
The opportunity to be in a group of like-minded individuals–all seeking a clearer road ahead–was a gift. Your leadership was amazing and inspirational!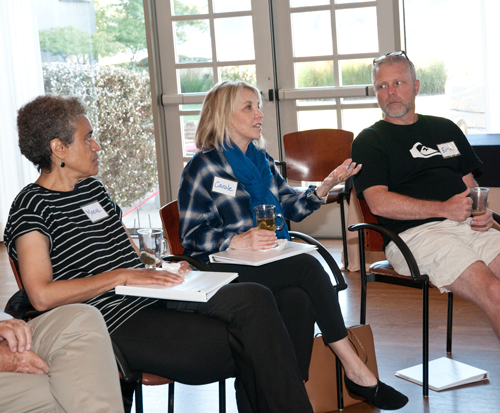 We all need to dream more and align with our desires for the future. We started the important conversations at the workshop and will continue them going forward.
This is a must workshop for anyone who wants to take a step back and critically evaluate the next phase of your life and career.
Sabrina creates a sacred space for whatever may arise in our sessions. Her wisdom, compassion, and dynamic coaching abilities have helped to align me with my highest path, and have given me the clarity to move forward with confidence. Her talent for connecting singular experiences with larger life themes has brought a sense of cohesion to my life. Her coaching honors our connection with Spirit as well as practical application of the learning. After working with her for a few months, I have accomplished much more than I expected to. But more importantly I feel much more capable of handling situations when they arise. Every session reconnects me with my personal power and gives me the confidence to create from that place. I'm so blessed and grateful to have Sabrina as my coach.
I was very excited to do this workshop at this juncture of my life. I came expecting to synch up with my wife and definitely accomplished that. But I also pushed my personal development more than I expected.
Sabrina Roblin understands fully what it means to be an outstanding listener. She not only hears what her clients are saying, she tailors her feedback to the precise needs of the ongoing dialogue she inspires with anyone lucky enough to work with her. There is nothing canned or prefabricated about the road maps that Sabrina develops with her clients in partnership. Everything she says and does is unique, personal, rooted in fact-based discovery, and carefully shaped to identify the hidden opportunities ahead that few individuals can see for themselves. I have seen her in action for three decades and her sensitivity to helping people better chart their futures is only surpassed by her intuition, patience, and willingness to evolve a plan through collaborative iteration. She is one of a kind, and believe me, you want her in your corner.
If you are looking for a mentor or coach who is knowledgeable, insightful and compassionate, Sabrina is a perfect choice. She has the experience and training to catalyze personal transformation in others from a place of service over ego.  I highly recommend her for the person she is and for her skills.
Would you like to talk to one of us about our program?